For local service providers and shop owners, the top positions in the Google map hits are usually essential customer magnets. They are very often placed at the top of the Google search results pages and almost always appear for those search terms that hold the greatest customer potential. This article tells you how to get your company there.
What are the map hits?
I'm almost sure you've seen these a lot. They pop up practically every time you search on Google for types of business or services related to a place.
These would be for example:
Hairdresser Innsbruck
Nutritionist Vienna
Florist Berlin
Plumber Hamburg
The search results usually look like this: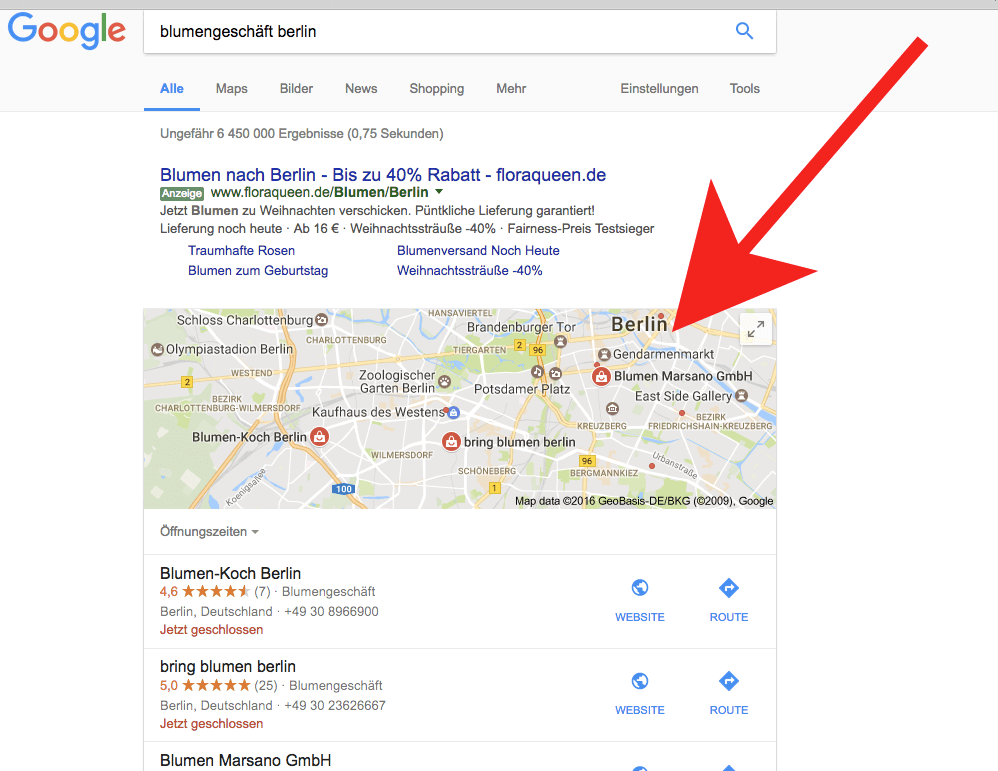 As you can see, the card hits are usually placed high up. In addition, however, there are only 3 companies that are prominently presented here. How about being mentioned here as one of these 3 companies? Presumably that would be quite good for your new customer acquisition...
What are the benefits of a top position in local search?
Google published a study on this in 2014. The result:
4 out of 5 consumers use local search queries like the ones above to find information about local shops, products or service providers.
Every second mobile phone user and every third computer user then went to a shop or service provider nearby.
Around 18 percent of smartphone searches (that's about 1 in 5) resulted in a direct purchase from the shop or vendor.
As you can see, you can attract interested parties who have a direct need for your offer at this moment in very large numbers and with very good chances directly to you through local search results.
How do you make it to the top positions on Google maps?
In most cases, this is not as difficult as it seems. In many cases, you often have to deal with little professional competition, especially in the regional area. This means: It will most likely be enough for you if you follow the following instructions step by step. If this is not enough for your sector and your location (but it certainly will be for most), we also have more in-depth knowledge for you.
Step 1: Find the best search term
This is actually not a step at all for optimising your map position. This step is even more important! Because it ensures that you are really reaching out to a potential customer. In local search, the exact choice of words plays an even greater role than in the search results below.
What does that mean?
It makes a difference whether you search for "EDV Betreuung Wien" or for "IT Dienstleister Wien". In both cases, what the searchers want is an IT support company (that is the technical term) in Vienna. However, three completely different companies appear in the map hits for both search terms.
You now need to find out which search term will bring you the most customers. There are two criteria for this:
1. how many searches are there per month?
This is easy to understand. If a term is searched for 1000 times per month, this term theoretically has more potential than if this only happens 10 times per month.
2. are the seekers my target group?
That's a little harder to find out. But: You can see from the Google search results whether the searchers are looking for your offer or have something else in mind.
To tie the second criterion to the above example: The technical term for the service is "IT support". But if you now enter "IT support Vienna" in Google, you will see that most people search for jobs in this search entry and not for such a provider.
How do we recognise this? We can tell by looking at the search results that stand apart from the ads and maps. If most of the results (ads ALWAYS excluded) show us job offers, it's because Google has found out that these people are looking for jobs by analysing millions of user data.
This is, by the way, a phenomenon often seen in searches with technical terms. Those who know the technical terms are usually people from the industry. And people from the industry are very rarely people who want to use the same service.
Step 2: Create a Google My Business profile
This step is the basic prerequisite for you to appear in the map hits at all. If you do not have a Google My Business profile for your company, this is not possible. You can create such a profile here: To Google Business.
Step 3: Get your Google My Business profile right
Here lies buried the decisive step as to whether you will be listed in the top 3 map hits directly in Google search or whether you will merely be listed somewhere in Google's special Maps search in some back position.
1. fill in the name with keyword focus.
In order to be listed better under the term defined earlier, this name should not only consist of your company name. Expand it to include the important search term you found earlier.
A hairdresser who wants to be listed under "Friseur Innsbruck" could choose this name:
"Company name - Your hairdresser in Innsbruck".
However, if the hairdresser prefers to appear under the search term "Hairstylist Innsbruck", then the My-Business-Name could look like this:
"Company Name - Your Hairstylist in Innsbruck".
I think the principle is well illustrated with this example.
Carefully fill in the rest of the requested information and make sure you have a landline number. Landline numbers have the advantage that they are clearly classifiable for Google as belonging to this location due to the area code.
In addition, make sure that you also match your website to the intention of the searcher. If you are a hairdresser, then the searcher must immediately recognise that you are a hairdresser in Innsbruck after clicking on the entry. And it should also be in the page title and the most important headline.
Theimportant thing is: everything must fit together coherently. You should use the same telephone number everywhere, etc.
2. photos, photos, photos!
Besides the right name, photos are one of the most important factors for map search results. Google loves to show lots of photos. Therefore, be sure to upload all the requested photos or even better: upload even more photos than requested.
Provide a profile picture, a logo and a background picture here. And then take the next step and upload at least 5 indoor photos, 5 outdoor photos, photos at work and staff photos. Also take the time to upload photos under "additional photos" that do not fall into any of the other categories so far.
Even if you may not believe it: a proper photo selection at Google-My-Business works wonders. If you have followed all the instructions up to this point, in many cases this will already be enough to be listed in the top card hits for your desired search phrase.
Step 4: Collect reviews
You have probably already noticed: Under the map hits you will find star ratings for the listed companies. Especially in sectors where many companies have hired professionals, the first 3 steps have usually been done well by many companies. Then the ratings can tip the scales.
Theimportant thing is: don't get carried away with falsifying reviews. Instead, ask each customer for a genuine review. Make it especially easy for these customers by sending them a link via e-mail. All they have to do is write the review.
If you do this often and regularly, you will soon have more ratings than many competitors. If your performance is good, they will also be very positive.
Summary
Unfortunately, I can't give you any guarantee that these measures will get you into the top map hits on Google. But: I can tell you that it has always worked for my clients so far. Most of the time, it was even enough to follow steps 1-3 properly.
Just think: Have you heard these tips before? Probably not. Look at the current competition in the top spots on the maps: Has the competition heard these tips before? Probably not either. Therefore, your chances are very likely very good.
A little candy
I also have a little treat up my sleeve: Especially in regional markets, there are even search queries where none of the companies have created a Google My Business entry. Then you can even occupy a much more prominent place in the Google search results with the above method.
This screenshot of a certified translator shows what is possible. It appears not only in a direct search for your company name, but actually in a search for your service in connection with your company location.
I wish you much fun and success in implementing these tips. If I have forgotten anything, I am open to additions. Please send me an email at [email protected] or leave me a comment below this post.
With kind regards
Manuel Diwosch
The klickbeben editorial team consists of experts in the field of online marketing. Our goal: We want to give you insight as well as tips on topics such as email marketing, marketing theory, SEO, social media marketing, search engine advertising and much more. In addition, we would like to offer you small insights into our exciting everyday agency life and thus a glimpse behind the scenes.